Wooohooo I'm jumping on the "What I ate Wednesday" bandwagon!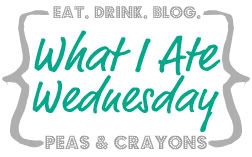 Let me explain what "What I Ate Wednesday" is for those of you who read my blog, but aren't a part of the blog world (I'm talking to you, Mom):
Jen
, from
Peas and Crayons
, hosts WIAW each week (Thanks, Jen!). Basically, it's a big food diary sharing party, where bloggers from all over the blogoshpere post what they eat for an entire day. If you don't get it, that's ok, just enjoy a day in the life of my tummy.:) It's fun to share what I eat all day, because most of the time, I only post my dinner recipes.
Everything I ate for this WIAW is from Tuesday, June 26, 2012.
Breakfast:
I usually eat breakfast when I get to work. I bring in a little baggie of oatmeal and microwave it, then I add a big melty scoop of peanut butter. It's delicious, and my coworkers always comment on how good it smells.
8:30 am
3/4 Cup oatmeal
1 tbsp Teddy's Peanut Butter
Water
9 am:
1 DD medium French Vanilla coffee- regular
Coffee can dramatically improve your morning in ~4 seconds. Here is proof:
Tracy's
face.
11 am
: I felt my tummy rumbling around 11 so I munched on some trail mix.
Trail mix: raw almonds, raisins, and sunflower seeds
12:15pm
Around noon Tracy and I walked over to the MIT food court
to eat lunch. We love eating lunch here because it gets us out of the office for a little while. I made a salad that morning, and filled it with lots of healthy veggies, and some cheese and meat to give it a little more substance.
Salad:
Green Leaf Lettuce
Napa Cabbage
Tomato (<--- I think I might be starting to like them!)
Cucumber
Carrots
Green Bell peppers
Shredded Low-Fat Mozzarella
Deli Turkey
Water &1 Clementine
2:30pm
At 2:30, I got hungry for my afternoon snack
.
I brought in a tub of Chobani nonfat plain greek yogurt and added a little cinnamon for some added flavor. It was satisfying and filling.
4pm
2 Hershey's Special Dark Chocolate nuggets with almonds.
Gotta have my little afternoon delight.
:)
7pm
I made tofu stir fry, with steamed vegetables and roasted ginger turnips
After dinner I had 1/2 a brownie from
Busy Bee Bakery
, the best bakery ever!
Happy Wednesday Everybody! Hope you have a tasty and nutritious day!